This obscure side of sweetness is waiting to blossom
Item number: 033
Item title: This obscure side of sweetness is waiting to blossom
Year in which the item emerged culturally or was produced industrially: 2017
Entry of the item into the inventory: March 2017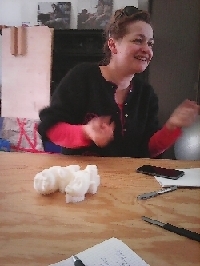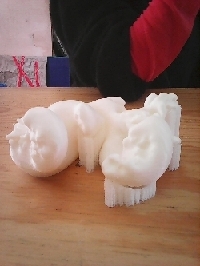 Conversation with Pascale Barret about 3D-scanning as a performance and the magmatic qualities of 3D-printed objects. The conversation took place at the closing of her installation This obscure side of sweetness is waiting to blossom in which she installed a collection of artworks and objects developed during a residency in South Korea.
Spending time between wild and urban life, mountains with shamans, city politics and cultural heritage, high (new) and low (old) tech, Pascale questioned relations between nature and culture, human, non human and machines. Pascale started to scan plants and roots and tried to solidify forms and patterns into 3D prints and 2D laser cuttings.
"The impression I have is that it is like magma, magmatic forms, a little bit monstruous and dangerous, maybe in the way shamanism works. It is like the aura of the plants"
Interview: http://possiblebodies.constantvzw.org/inventory/assets/pascalebarret.mp3