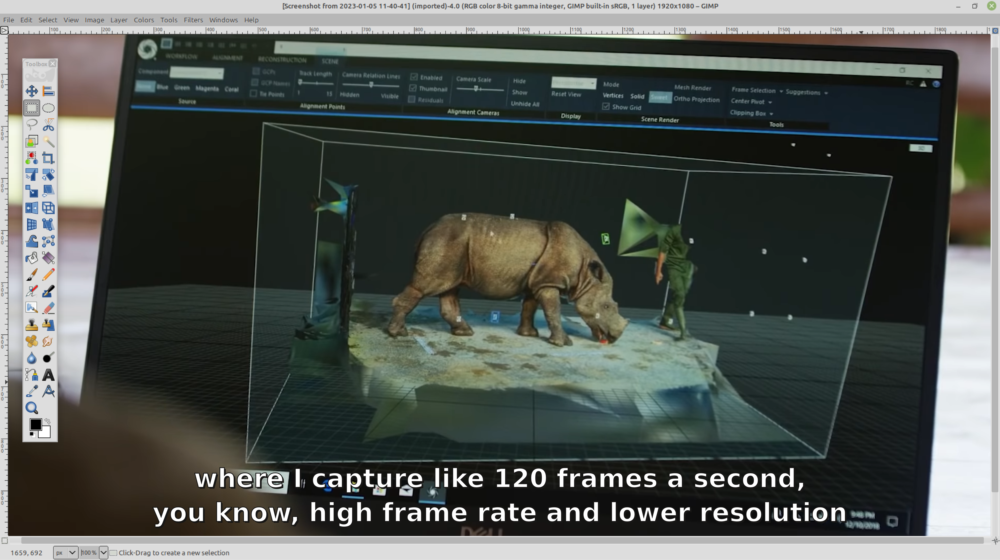 z: Disappearing around us (Desapareciendo a nuestro alrededor / Desapareixent al nostre voltant)
on capturo com a 120 fotogrames per segon, ja saps, alta velocitat de fotogrames i menor resolució / donde capturo como 120 fotogramas por segundo, ya sabes, alta velocidad de fotogramas y menor resolución / where I capture like 120 frames a second, you know, high frame rate and lower resolution
"… photogrammetry can be very much used for something like this and for people who are doing the collision reconstruction so it's great that you have photogrammetry and you have laser scanners or whatever but it's all about what you can do with the data right. but you can do things to a 3D model that you can't do otherwise where I capture like 120 frames a second, you know, high frame rate and lower resolution. …"
fonts/fuentes/sources
---
x, y, z: Volumetric Regimes
Possible Bodies (Jara Rocha & Femke Snelting), 2023
[CAT] La computació 3D ha coevolucionat històricament amb les tecnociències patriarco-colonials modernes i s'ha alineat amb els règims d'optimització, normalització, taxonomització, propietat i ordre mundial hegemònic. Els llegats ontoepistemics i les projeccions del desenvolupament industrial comercial deixen rastre d'aquell imaginari i expliquen les històries d'una viva tensió entre "el probable" i "el possible". Definida com les tècniques de producció de volums mitjançant la mesura de la matèria (somàtica, ambiental), la volumetria (re)produeix i accentua amb massa facilitat móns molt probables, i aquest procés s'intensifica dins l'àmbit tecnocràtic de la hipercomputació contemporània. La ubiqüitat de les operacions eficients i directes és profundament perjudicial en la manera com gradualment esgota el món de totes les possibilitats de compromís, interporositat i potencial queer viu. x, y, z: Volumetric Regimes consta de tres fotogrames d'una pel·lícula que sempre està en procés. Aquesta pel·lícula que potser no es farà mai, demana angles desobedients que poden anar més enllà de la rigidesa dels eixos axiomàtics dins de les tecnoecologies del seguiment, captura, modelatge i escaneig en 3D. És un intent trans*feminista de pensar a partir de l'agència de certs artefactes culturals, amb l'esperança d'ampliar les seves possibilitats més enllà de les maneres de fer i de ser predissenyades.
[CAST] La computación 3D ha coevolucionado históricamente con las tecnociencias patriarcocoloniales modernas y se ha alineado con los regímenes de optimización, normalización, taxonomización, propiedad y orden mundial hegemónico. Los legados ontoepistémicos y las proyecciones del desarrollo industrial comercial dejan huellas de ese imaginario y narran las historias de una viva tensión entre "lo probable" y "lo posible". Definida como las técnicas para producir volúmenes midiendo materia (somática, ambiental), la volumetría (re)produce y acentúa con demasiada facilidad mundos muy probables, y este proceso se intensifica en el ámbito tecnocrático de la hiperinformática contemporánea. La ubicuidad de las operaciones eficientes y directas es profundamente perjudicial por la forma en que gradualmente agota el mundo de toda posibilidad de compromiso, interporosidad, existencia queer y potencial vivo. x, y, z: Volumetric Regimes consta de tres fotogramas de una película que siempre está en proceso de hacerse. Esta película, que quizá nunca se haga, exige ángulos desobedientes que puedan ir más allá de la rigidez de los ejes axiomáticos dentro de las tecno-ecologías de la monitorización, la captura, el modelado y el escaneado en 3D. Es un intento trans*feminista de pensar a través de la agencia de ciertos artefactos culturales, con la esperanza de ampliar sus posibilidades más allá de las formas prediseñadas de hacer y de ser.
[EN] 3D computation has historically co-evolved with Modern patriarcho-colonial technosciences, and aligned with the regimes of optimisation, normalisation, taxonomisation, ownership and hegemonic world order. The ontoepistemic legacies and projections of commercial industrial development leave traces of that imaginary and tell the stories of a lively tension between "the probable" and "the possible". Defined as the techniques for producing volumes by measuring (somatic, environmental) matter, volumetrics all too easily (re)produce and accentuate very probable worldings, and this process is intensified within the technocratic realm of contemporary hyper-computation. The ubiquity of efficient and straight operations is deeply damaging in the way it gradually depletes the world of all possibility for engagement, interporousness, queerness and lively potential. x, y, z: Volumetric Regimes consists of three frames from a movie that is always-already-in-the making. This movie that might never be made, calls for disobedient angles that can go beyond the rigidness of axiomatic axes within the techno-ecologies of 3D tracking, capturing, modeling and scanning. It is a trans*feminist attempt to think along the agency of certain cultural artifacts, hopefully widening their possibilities beyond pre-designed ways of doing and being.