Unfolded
Jump to navigation
Jump to search
DATA browser 09
VOLUMETRIC REGIMES:
material cultures of quantified presence
x, y, z:
Dimensional axes of power
Parametric Unknowns:
Hypercomputation between the probable and the possible
somatopologies:
On the ongoing rendering of corpo-realities
Signs of clandestine disorder:
The continuous after-math of 3D computationalism
Depths and Densities:
Accidented and dissonant spacetimes
First established in 2004, the DATA browser book series explores new thinking and practice at the intersection of contemporary art, digital culture and politics.
The series takes theory or criticism not as a fixed set of tools or practices, but rather as an evolving chain of ideas that recognize the conditions of their own making. The term "browser" is useful here in pointing to the framing device through which data is delivered over information networks and processed by algorithms. Whereas a conventional understanding of browsing suggests surface readings and cursory engagement with the material, the series celebrates the potential of browsing for dynamic rearrangement and interpretation of existing material into new configurations that are open to reinvention.
Series editors:
Geoff Cox
Joasia Krysa
Volumes in the series:
DB 01 ECONOMISING CULTURE
DB 02 ENGINEERING CULTURE
DB 03 CURATING IMMATERIALITY
DB 04 CREATING INSECURITY
DB 05 DISRUPTING BUSINESS
DB 06 EXECUTING PRACTICES
DATA browser 09
VOLUMETRIC REGIMES:
material cultures of quantified presence
x, y, z:
Dimensional axes of power
Parametric Unknowns:
Hypercomputation between the probable and the possible
somatopologies:
On the ongoing rendering of corpo-realities
Signs of clandestine disorder:
The continuous after-math of 3D computationalism
Depths and Densities:
Accidented and dissonant spacetimes
DATA browser 09
VOLUMETRIC REGIMES: material cultures of quantified presence
Edited by XXX

Published by
Open Humanities Press 2018
Copyright © 2018 the authors
This is an open access book, licensed under the Creative Commons Attribution By Attribution Share Alike License. Under this license, authors allow anyone to download, reuse, reprint, modify, distribute, and/or copy their work so long as the authors and source are cited and resulting derivative works are licensed under the same or similar license. No permission is required from the authors or the publisher. Statutory fair use and other rights are in no way affected by the above. Read more about the license at https://creativecommons.org/licenses/by-sa/4.0/.
Figures, text and other media included within this book may be under different copyright restrictions.
Freely available at
data-browser.net/db06.html
ISBN (print): XXXXXXX
ISBN (PDF): XXXXXXX
ISBN (ePUB): XXXXXXX
This volume produced by Critical Software Thing with support from Participatory IT Research Centre, Aarhus University & Exhibition Research Lab, Liverpool John Moores University.
DATA browser series template
designed by Stuart Bertolotti-Bailey.
Book layout and typesetting by
XXX
The cover image is derived from Multi by David Reinfurt, a software app that updates the idea of the multiple from industrial production to the dynamics of the information age. Each cover presents an iteration of a possible 1,728 arrangements, each a face built from minimal typographic furniture, and from the same source code. www.o-r-g.com/apps/multi
Volumetric Regimes
Foreword
[
edit
]
[To be added]
Volumetric Regimes
Volumetric Regimes: Material cultures of quantified presence
What is going on with 3D!? This question, both modest and enormous, triggered the collaborative research trajectory that is compiled in this book. It was provoked by our intuitive concern about the way 3D computing quite routinely seems to render racist, sexist, ableist, speciest and ageist worlds.[1] Asking about what is up with 3D becomes especially urgent observing its application in border-patrol devices, for climate prediction modeling, in advanced biomedical imaging or throughout the gamify-all approach of overarching industries, from education to logistics. The proliferating technologies, infrastructures and techniques of 3D tracking, modeling and scanning are increasingly hard to escape.
Asking "What is going on with 3D?!" meant to fabricate many more questions: Why is '3D' now used as a synonym for 'volume-metrics'. Or: how did the metric of volume become naturalized as '3D'? How are volumes calculated, accounted for and represented? Is the three-dimensional technoscientific organization of spaces, bodies or objects only about volume, or rather about the particular modes in which volume is culturally mobilized? How, then, are computational volumes occupying the world? What forms of power come along with 3D? How are the x, y, z axes established as linear carriers or variables of volume, by whom and why? If we take 3D as a noun, it points at the quality of being three-dimensional. But what if we follow the intuition of asking about 'what is going on' and take 3D as an action, as an operation with implications for the way we can world otherwise? Can 3D be turned into a verb, at all? How can we at the same time use, problematize and engage with the cultures of volume-processing that converge under the paradigm of 3D?
One important question we almost overlooked.What is volume, actually!? Let's start by saying that volume is a naturalized construction, a representation of mass and of matter, by means of calculation. The concept of volume is therefore inextricably connected to particular ways of measuring dimensional worlds. The cases and situations compiled in this book depart from this important shift: volume is not a given, but rather an outcome, and volumetrics is the set of techniques to fabricate such outcome.
As a field oriented towards the technocratic realm of modern technosciences, 3D computation has historically unfolded under "the probable" regimes of optimization, normalization and world order. In that sense, volumetrics is involved in sustaining the all too probable behavior of 3D, which is actively being (re)produced and accentuated by digital hyper-computation. The legacies and projections of industrial development leave traces of a lively tension between the probable and the possible. Volumetric Regimes explores operational, discursive and procedural elements which might widen "the possible" in contemporary volumetrics.
Volumetric Regimes emerges from Possible Bodies, a collaborative project on the intersection of artistic and academic research, developing alongside an inventory of cases through writing, workshops, visual essays and performances.[2] This publication brings together diverse materials from a rich and ongoing conversation between artists, software developers and theorists on the political, aesthetic and relational regimes in which volumes are calculated.
Material cultures
[
edit
]
This book claims to be an inquiry into the material cultures of volumetrics. We did not settle for one specific area of knowledge, but rather stayed with the complexity of intricate stories that in one way or another involve a metrics of volume. The study of material cultures has a long tail which connects several disciplines such as archaeology, ethnography to design, which each bring their own methodological nuances and specific devices. Volumetric Regimes sympathizes with this multi-fold research sensibility that is necessary to think-with-matter. The framework of material cultures provides us with an arsenal of tools and vocabularies interlocute with for example New Feminist Materialisms, Science and Technology Studies, Phenomenology, Social Ecology or Cultural Studies.
The study of the material cultures of volumetrics necessitates a double-bind approach. The first bind is related to the material culture of volume. We need to speak about the volume that so-called bodies occupy in space from the material perspective of what they are made of, the actual conditions of their material presence and the implications of what space they occupy, or not. But we also need to speak about the material arrangements of metrics, the whole ecology of tools that participates in measuring operations. The second bind is therefore about the technopolitical aspects of knowledge production by measuring matter and of measured matter itself; in other words: the material culture of metrics.
The material culture of volume-metrics and it's internal double bind implies an understanding of technosocial relations as always in the making, both shaping and being shaped under the conditions of cultural formations. Being sensitive to matter therefore also involves a critical accountability towards the exclusions, reproductions and limitations that such formations execute. We decided to approach this complexity by assuming our response-ability with an inventory filled with cases and an explicitly political attitude.
The way matter matters has a direct affect on how something becomes a structural and structured regime, or rather how it becomes an ongoing contingent amalgamation of forces. There is no doubt that metrics can be considered to be a cultural realm of its own[3], but what about the possibility of volume as a cultural field, infused by an apparatus of axioms and assumptions that despite their rigid affirmations are not referring to a pre-existent reality, but actually rendering one of their own.
In this book, we spend some quality time with the idea that volume as it is popularly understood, is the product of a specific evolution of material culture. We want to activate a public conversation, asking: How is power distributed in a world that is worlded by axes, planes, dimensions and coordinates, too often and too soon crystallizing abstractions in a path towards naturalizing what presences count where, for whom and for how long?
Volumetric regimes
[
edit
]
We started this introduction by saying that volume is an outcome, not a given. Mass can (but does not have to) be measured by culturally-set operations like the calculation of its depth, or of its density. The volumes resulting from such measurement operations use cultural or scientific assumptions such as limit, segment or surface. The specific ways that volumetrics happen, and the modes that made them crystallize into axes and axioms, are the ones that we are trying to trace back and forth, to identify how they ended up arranging a whole regime of thought and praxis.
The contemporary regime of volumetrics, meaning the enviro-socio-technical politics and narratives that emerge with and around the measurement and generation of 3D presences, is a regime full of bugs. Not neutral and also not innocent at all, this regime is wrapped up in the interrelated legacies and ideologies of neoliberalism, patriarchal colonial commercial capitalism, tied with the oligopolies of authoritarian innovation and technoscientific mono-cultures of proprietary hardware and software industries, intertwined with the cultural regimes of mathematics, image processing but also canonical vocabularies. In feminist techno-science, the relation between (human) bodies and technologies has had lots of attention, from the cyborg manifesto to more recent new materialist renderings of phenomena and apparatuses.[4] In the field of software studies, the deviceful entanglements between hegemonic regimes and software procedures have been thoroughly discussed[5], while anti-colonial scholars critiqued the ways that measuring or metrics align with racial capitalism and North-South divisions of power.[6] Thinking about the computation of volume is merely present in relation to the interaction of human and other-than-human bodies with machinic agents[7], with the built environment[8] and its operative logics.[9]
What we have been looking for in these works, and not always found, is the kind of diffuse rigor needed for a transformative politics. We realized that it is a condition for non-binarism, of not settling, of being response-able in constant change.[10] It triggered the intense interlocutions with the artists, activists and thinkers that have contributed to this book, and made us stick to polyedric research methods. We've gone back to Paul B. Preciado who taught us about the political fiction that so-called bodies are, a fleshy accumulation of archival data that keeps producing, reproducing and/or contesting the truths of power and their interlinked subjectivities.[11] Fired up for the worldling of different tech, we found inspiring unfoldings of computation and geological volumes in Kathryn Yusoff's [12] and Elizabeth A. Povinelli's [13] work, who insist on brave unpackings of Modern regimes all-the-way. Syed Mustafa Ali [14] and David Golumbia [15] separate computation from computationalism to make clear that while computation obviously sediments and continues colonial damages, this is not necessarily how it needs to be (and it necessarily needs to be otherwise). Interlocutions with the deeply situated work of Seda Guerses[16], operating on the discipline of computation from the inside, sparked with the energy of queer thinkers and artists Zach Blas and Micha Cárdenas[17] and more recently Loren Britton and Helen V. Pritchard in For CS.[18] We are grateful for their critical problematizations of the ever-straightening protocols that operate everywhere that existence is supposed to happen.
The shift to understanding volume as an outcome of sociotechnical operations, is what helps us activate the critical revision of the regimes of volumetry and their many consequences. If volume does not exist without volumetrics, then the technopolitical struggle means to scrutinize how metrics could be exploded, (re)designed, otherwise implemented, differently practiced, (de)bugged, interpreted and/or cared for.
Quantified presence
[
edit
]
Volumetric Regimes is also our way to build capacities for response to the massive quantification of presences in computed space-times. Such response-ability needs to be multi-faceted, due to the process of manipulation that quantifying presences applies upon presence itself as an ontological concern. The fact that something can exist and be accountable in a virtual place, or that something which is present in a physical space can re-appear or be re-presented in differently mediated conditions, or not at all, is technically produced through supposedly efficient gesturs such as clear-cut incisions, separating boundaries, layers of segmentation, regions of interest and acts of discretization. The agency of these operations is more often than not erased after the fact, providing a nauseating sense of neutrality.
The project of Volumetric Regimes is to think with and towards computing-otherwise rather than to side with the uncomputable or to count on that which escapes calculation. Flesh, complexity and mess are already-with computation, somehow simultaneous and co-constituent of mess. The spaces created by the tension between matter and its quantification provide with a creative arena for the diversification of options in the praxis of 3D computation. Qualitative procedures like intense dialoguing, hands-on experiments, participant observation, speculative design and indeterminate protocols help us understand possible research attitudes in response to a quantify-all mono-culture, not succumbing to its own per-established analytics. We wondered about the voluminosity of 'bodies' but also about their entanglement with what marks them as such, and how to pay attention to it. Could 'deep implicancy'[19] be where computing otherwise happens, by means of speculation, indeterminacy and possibility? Perhaps such praxis is already located beyond or below normed actions like capturing, modeling or tracking that are all so complicit with the making of fungibility.[20]
The specific form of quantification that is at stake in the realm of volume-metrics, is datafication. The computational processing, displacing and re-arranging of matter through volumetric techniques participates in what The Invisible Committee called the crisis of presence that can be observed at the very core of the contemporary ethos.[21] We connect with their concerns about the way present presences are rendered, or not. How to value what needs to count and be counted or what is in excess of quantification, via the exact same operation, in a politicized way. In other words, a politics of reclaiming quantification is a praxis towards a politicized accountability for the messiness of all techniques that deal with the thickness of a complex world. Such praxis is not against making cuts as such, but rather commits to being response-able with the gestures of discretion and not making final finite gestures, but reviewable ones. Connecting to quantification in this manner, is a claim for forms of accountable accountability.[22]
Aligning ourselves with the tradition of feminist techno-sciences, Volumetric Regimes: Material cultures of Quantifies Presence stays with the possible (possible tools, methods, practices, materializations, agencies, vocabularies) of computation, demanding complexity while queering the rigidity of their fixing of items, discrete and finite entities in too fast moves towards truth and neutrality. In this publication we try by all means necessary to disorient the assumption of essentialist discreteness and claim for the thickening of qualitative presence in 3D computation realms. In that sense, Volumetric Regimes could be considered as an attempt to do qualitative research on the quantitative methods related to the volumetric-occupation of worlds.
Polyedric research methods
[
edit
]
In terms of method, this book benefits from several polyedric forces, that when combined form a prismatic body of disciplinarily uncalibrated, but rigorous research. The study of the complex regimes that rule the worlds of volumes, necessitated a few methodological inventions to widen the spectrum of how volumetrics can be studied, described, problematized and reclaimed.[23] That complexity is generated not only by the different areas in which measuring volumes is done, but also because it is a highly crowded field, populated by institutional, commercial, scientific, sensorial, technological agents.
One polyedric force is the need for direct action and informed disobedience applied to research processes. We have often referred to our work as "disobedient action-research", to insist on a mode of research that is motivated by situated, ad-hoc modes of producing and circulating knowledge. Orthodox research involving technology is too often ethically, ontologically, and epistemologically dependent on a path from and towards universalist enlightenment, aiming to eventually technically fixing the world. This violent and homogenizing solutionist attitude stands in the way of a practice that, first of all, needs to attend to the re-articulation and relocation of what must be accounted for, perhaps just by proliferating sensibilities, issues, demands, requests, complaints, entanglements, and/or questions.[24]
A second polyedric force is generated by the playful intersection of artistic and academic research in the collaborative praxis of Possible Bodies. It materializes for example in uncommon writing and the use of made-up terminology, but also in the hands-on engagement with tools, merging high and low tech, learning on the go, while attending to genealogies that arranged them in the here-now. You will find us smuggling techniques for knowledge generation from one domain to another such as contaminating ethnographic descriptions with software stories, mixing poetics with abnormal visual renders, blurring theoretical dissertations with industrial case-studies and so forth.
Trans*feminism is certainly a polyedric force at work, in mutual affection with the previous ones. We refer to the research as such, in order to convoke around that star (*) all intersectional and intra-sectional aspects that are possibly needed.[25] Our trans*feminist lens is sharpened by queer and anti-colonial sensibilities, and oriented towards (but not limited to) trans*generational, trans*media, trans*disciplinary, trans*geopolitical, trans*expertise, and trans*genealogical forms of study. The situated mixing of software studies, media archaeology, artistic research, science and technology studies, critical theory and queer-anticolonial-feminist-antifa-technosciences purposefully counters hierarchies, subalternities, privileges and erasures in disciplinary methods.
The last polyedric force is generated by our politicized attitude towards technological objects. This book was developed on a wiki, designed with Free, Libre and Open Source software (FLOSS) tools and published as Open Access. Without wanting to suggest that FLOSS itself produces the conditions for non-hegemonic imaginations, we are convinced that its persistent commitment to transformation can facilitate radical experiments, and trans*feminist technical prototyping. The software projects we picked for study and experimentation such as Gplates[26], MakeHuman[27] and Slicer[28] follow that same logic. It also oriented our DIWO attitude of investigation, preferring low-tech approaches to high-tech phenomena and allowing ourselves to misuse and fail.
To give an ongoing account of the structural formations conditioning the various cultural artifacts that are co-composed through scanning, tracking and modeling, we settled for inventorying as a central method. The items in the Possible Bodies inventory do not rarefy these artifacts, as would happen through the practice of collecting, or pin them down, as in the practice of cartography, or rigidly stabilize them, as might be a risk through the practice of archiving.[29] Instead, the inventorying is about continuous updates, and keeping items available. The inventory functions as an additional reference system for building stories and vocabularies; items have been used for multiple guided tours, both written and performed.[30] Being aware of its problematic histories of commercial colonialism, the praxis of inventorying needs to also be reoriented towards just and solidary techniques of semiotic-material compilation.[31]
The writing of bug reports is a specific form of disobedient action research which implies a systematic re-learning of the very exercise of writing, as well as a resulting direct interpellation to the developing community, by its own means and channels. Bug reporting, as a form of technical grey literature, makes errors, malfunctions, lacks, or knots legible; second, it reproduces a culture of a public interest in actively taking-part in contemporary technosciences. As a research method, it can be understood as a repoliticization and cross-pollination of one of the key traditional pillars of scientific knowledge production: the publishing of findings.
Technical expertise is not the only knowledge suitable for addressing the technologically produced situations we find ourselves in. The term Clumsy computing describes a mode of relating to technological objects that is diffuse, sensitive, tentative but unapologetically confident.[32] Such diffusiveness can be found in the selection of items in the inventory,[33] in the deliberate use of deported terminology, in the amateur approach to tools, in the hesitation towards supposedly ontologically-static objects of study, in the sudden scale jumps, in the radical disciplinary un-calibration and in our attention to porous boundaries of sticky entities.[34]
The persistent use of languaging formulas problematizes the limitations of ontological figures. For example the repeated use of "So-called"  for "bodies" or "plants" is a way to question the various methods whereby finite, specified and discrete entities are being made to represent the characteristics of whole species, erasing the nuances of very particular beings.[35] Combinatory terms such as "Somatopologies" play a recombinatory game to insist on the implications of one regime onto another.[36] Turning nouns into verbs such as using Circlusion as Circluding, is a technology that forces language to operate with different temporary tenses and conjugations, refusing the fixed ontological commulgation that naming implies.[37]
Interlocution has ruled the orientations of this inquiry that was collective by default: by affecting and being affected by communities of concern in different locations, the research process changed perspectives, was infused by diverse vocabularies and sensibilities and jumped scales all along. The conversations brought together in Volumetric Regimes stuck with this principle of developing the research through an affective network of comrades, companions, colleagues and collaborators, based on elasticity and mutual co-constitution.
Volumetric Regimes experiments with various formats of writing, publishing and conversing. It compiles guided tours, peer-reviewed academic texts, speculative fiction, pamphlets, bug reports, visual essays, performance scripts and inventory items. It is organized around five chapters, that each rotate the proliferating technologies, infrastructures and techniques of 3D tracking, modeling and scanning differently. Each chapter starts with an invited contribution that rotates the material-discursive entanglements in its own way.
"x, y, z: Dimensional axes of power" takes on the building blocks of 3D: x, y and z. The three Cartesian axes both constrain and orient the chapter, as they do for the space of possibility of the volumetric. It takes serious the implications of a mathematical regime based on parallel and perpendicular lines, and zooms in on the invasive operations of virtual renderings of fleshy matter, but also calls for queer rotations and disobedient trans*feminist angles that can go beyond the rigidness of axiomatic axes within the techno-ecologies of 3D tracking, modeling and scanning. The chapter begins with a contribution by Sina Seifee, who in his text "Rigging Demons" draws from an intimate history with the technical craft-intense practice of special effects animation, to tell us stories of visceral non-mammalian animality between love and vanquish. The chapter continues with a first visit to the Possible Bodies inventory that sets-up the basic suspicions on what is of value in rendered and captured worlds, following the thread of dis-orientation as a way to think through the powerful worldings that are nevertheless produced by volumetrics. "Invasive Imagination and its agential cut" reflects on the regimes of biomedical imaging and the volumetrization of so-called bodies.
"Somatopologies: On the ongoing rendering of corpo-realities" opens up all the twists in epistemologies and methodologies triggered by Volumetric Regimes in the somatic realm. As a notion, "somatopologies" converges the not-letting-go of modern patriarchocolonial apparatuses of knowledge production like mathematics or geometry, specifically focusing on an undisciplined study of the paradigm of topology. By opening up the conditions of possibility, soma-topologies is a direct reclaim for other ontologies, ethics, practices and crossings. The chapter opens with "Clumsy Volumetrics" in which Helen V. Pritchard follows Sara Ahmed's suggestion that 'clumsiness' might form a queer and crip ethics that generates new openings and possibilities. "somatopologies (materials for a movie in the making)" documents a series of installations and performances that mixed different text sources to cut agential slices through technocratic paradigms in order to create hyperbolic incisions that stretch, rotate and bend Euclidean nightmares and Cartesian anxieties. "Circluding" is a visual/textual collaboration with Kym Ward on the potential of a gesture that flips the order of agency without separating inside from outside. In "From topology to typography: a romance of 2.5D", Sophie Boiron and Pierre Huyghebaert open up a graphic conversation on the almost-volumetrics that precede 3D in digital typography and finally the short text "MakeHuman" and the pamphlet "Information for users" take on the implications of relating to 3D-modelled-humanoids.
The vibrating connections between hyper-realism and invention, re-creation and simulation, generation and parametrization are the inner threads of a chapter titled "Parametric Unknowns: Hypercomputation between the probable and the possible". What's in the world and what is processed by mechanisms of volumetric vision differs only slightly, offering a problematic dizzying effect. The opening of the chapter is in the hands of Nicolas Malevé, who offers a visual ethnography of some of the interiors and bodies that made computational photography into what it became. Not knowing everything yet, the panoramization of intimate atmospheres works as an exercise to study the limits between the flat surfaces of engineering labs and the dense worlds behind their scenes. "The Fragility Of Life" is an excuse to enter into the thick files compiled by designer-researcher Simone N. Niquille on the digital post-production of truth. Somehow in line with that, Maria Dada provides with an overview of how different training and rehearsing are, especially in the gaming industry that makes History. And finally, a long-term conversation with Phil Langley questions the making of too fast computational moves while participating in architectural and infrastructural materializations.
"Signs of Clandestine Disorder: The continuous after-math of 3D computationalism" follows the long tail of volumetric techniques, technologies and infrastructures, and the politics inscribed in it. The chapter's title points to "computationalism", a direct reference to Syed Mustafa Ali's approach to decolonial computing.[38] The other half is a quote from Alphonso Lingis, which invokes the non-explicit relationality between elements that constitute computational processes.[39] In that sense, it contrasts directly with the discursive practice of colonial perception that Ramon Amaro described as "self maintaining in its capacity to empirically self-justify."[40] The chapter opens with "Endured instances of relation, an exchange" in which Romi R. Morrison reflects on specific types of fixity and fixation that pertain to volumetric regimes, and the radical potential of 'flesh' in data practices, while understanding bodies as co-constructed by their inscriptions, as a becoming-with technology. The script for the workshop Signs of clandestine disorder for the uniformed and codified crowd is a generative proposal to apply the mathematical episteme to lively matters, but without letting go of its potential. In "So-called plants" we return to the inventory for a vegetal trip, observing and describing some operations that affect the vegetal kingdom and volumetrics.
The last chapter is titled "Depths and Densities: Accidented and dissonant spacetimes". It proposes to shift from the scale of the flesh to the scale of the earth. The learnings from the insurgent geology works of authors like Kathryn Yusoff <ref Kathryn Yusoff </ref>, triggered many questions about the ways technopolitics cut the vertical and horizontal axis and that limit the spectrum of possibilities to a universalist continuation of extractive modes of existence and knowledge production. The contribution by Kym Ward, "Open Boundary Conditions", offers a first approach to her situated intensive study of the crossings between volumetrics and oceanography, from the point of view of the Bidston Observatory in Liverpool. From this vantage point she articulates a critique on technosciences, and provides with an overview of possible affirmative areas of study and engagement. In "A Bugged Report", the filing of bug reports turns out to be an opportune way to react to the embeddedness of anthropocentrism in geomodeling software tools, different to for example technological sovereignty claims. "We Have Always Been Geohackers" continues that thinking and explores the probable continuation of extractive modes of existence and knowledge production in software tools for rendering tectonic plates. The workshop script for exercising an analog lidar apparatus is a proposal to experience these tensions in physical space, and then to discuss them collectively. The chapter ends with "Ultrasonic Dreams of Aclinical Renderings", a fiction that speculates with hardware on the possibilities for scanning through accidented and dissonant spacetimes.
x, y, z
Dis-orientation and its aftermath[edit]
"We remain physically upright not through the mechanism of the skeleton or even through the nervous regulation of muscular tone, but because we are caught up in a world".[1]
This text is based on three items selected from the Possible Bodies inventory. We settled for inventorying as a method because we want to give an account of the structural formations conditioning the various cultural artifacts that co-compose 3D polygon "bodies" through scanning, tracking and modeling. With the help of the multi-scalar and collective practice of inventorying, we make an attempt to think along the agency of these items, hopefully widening their possibilities rather than pre-designing ways of doing that too easily could crystallize into ways of being. Rather than rarefying the items, as would happen through the practice of collecting, or pinning them down, as in the practice of cartography, or rigidly stabilizing them, as might be a risk through the practice of archiving, inventorying is about continuous updates, and keeping items available.
Among all of the apparatuses of the Modern Project that persistently operate on present world orderings, naming and account-giving, we chose the inventory with a critical awareness of its etymological origin. It is remarkably colonial and persistently productivist: inventory is linked to invention, and thereby to discovery and acquisition.[2] The culture of inventorying remits us to the material origins of commercial and industrial capitalism, and connects it with the contemporary database-based cosmology of techno-colonialist turbo-capitalism. But we learned about the potentials embedded in modern apparatuses of designation and occupation, and how they can be put to use as long as they are carefully unfolded to allow for active problematization and situated understanding.[3] In the case of Possible Bodies, it means to keep questioning how artifacts co-habit and co-compose with techno-scientific practices, historically sustained through diverse axes of inequality. We urgently need research practices that go through axes of diversity.
The temporalities of inventorying are discontinuous, and its modes of existence pragmatic: it is about finding ways to collectively specify and take stock, to prepare for eventual replacement, repair or replenishment. Inventorying is a hands-on practice of readying for further use, not one of account-giving for the sake of legitimization. As an "onto-epistemological" practice[4], it is as much about recognizing what is there (ontological) as it is about trying to understand (epistemological). Additionally, with its roots in the culture of manufacture, inventorying counts on cultural reflection as well as on action. This is how inventorying as a method it links to what we call 'disobedient action-research', it invokes and invites further remediations that can go from the academic paper to the bug report, from the narrative to the diagrammatic, and from tool mis-use to interface re-design to the dance-floor. It provides us with inscriptions, de-scriptions and re-interpretations of a vocabulary that is developing all along.
For this text, we followed the invitation of Sara Ahmed, "to think how queer politics might involve disorientation, without legislating disorientation as a politics".[5] We inventoried three items, 'Worldsettings for beginners', 'No Ground' and 'Loops', each related to the politics of 'dis-orientation'. In their own way, these artifacts relate to a world that is becoming oblique, where inside and outside, up and down switch places and where new perspectives become available. The items speak of the mutual constitution of technology and bodies, of matter and semiotics, of nature and culture and how orientation is managed in tools across the technological matrix of representation. The three items allow us to look at tools that represent, track and model "bodies" through diverse cultural means of abstraction, and to convoke its aftermath.
Item 007: Worldsettings for beginners[edit]
Year in which the item emerged culturally or was produced industrially: 1995
Entry of the item into the inventory: March 2017
Author(s) of the item: Blender community
Cluster(s) the item belongs to: Dis-orientation
URL: http://possiblebodies.constantvzw.org/inventory/?007

"If the point of origin changes, the world moves but the body doesn't"[6]
In computer graphics and other geometry-related data processing, calculations are based on Cartesian coordinates, that consist of three different dimensional axes: x y and z. In 3D-modelling, this is also referred to as 'the world'. The point of origin literally figures as the beginning of the local or global computational context that a 3D object functions in.
Using software manuals as probes into computational realities, we traced the concept of 'world' in Blender, a powerful Free, Libre and Open Source 3D creation suite. We tried to experience its process of 'worlding' by staying on the cusp of 'entering' into the software. Keeping a balance between comprehension and confusion, we used the sense of dis-orientation that shifting understandings of the word 'world' created, to gauge what happens when such a heady term is lifted from colloquial language to be re-normalized and re-naturalized in software. In the nauseating semiotic context of 3D modeling, the word 'world' starts to function in another, equally real but abstract space. Through the design of interfaces, the development of software, the writing of manuals and the production of instructional videos, this space is inhabited, used, named, projected and carefully built by its day-to-day users.
In Blender, virtual space is referred to in many ways: the mesh, coordinate system, geometry and finally, the world. In each case, it denotes a constellation of x, y, z vectors that start from a mathematical point of origin, arbitrarily located in relation to a 3D object and automatically starting from X = 0, Y = 0, Z = 0. Wherever this point is placed, all other planes, vertices and faces become relative to it and organize around it; the point performs as an "origin" for subsequent trans-formations.
In the coordinate system of linear perspective, the vanishing point produces an illusion of horizon and horizontality, meant to be perceived by a monocular spectator that marks the center of perception and reproduction. Points of origin do not make such claims of visual stability.
"The origin does not have to be located in the center of the geometry (e.g. mesh). This means that an object can have its origin located on one end of the mesh or even completely outside the mesh."[7]
In software like Blender, there is not just one world. On the contrary, each object has its own point of origin, defining its own local coordinates. These multiple world-declarations are a practical solution for the problem of locally transforming single objects that are placed in a global coordinate system. It allows you to manipulate rotations and translations on a local level and then outsource the positioning to the software that will calculate them in relation to the global coordinates. The multi-perspectives in Blender are possible because in computational reality, 'bodies' and objects exist in their own regime of truth that is formulated according to a mathematical standard. Following the same processual logic, the concept of 'context' in Blender is a mathematical construct, calculated around the world's origin. Naturalized means of orientation such as verticality and gravity are effects, applied at the moment of rendering.
"Blender is a two-handed program. You need both hands to operate it. This is most obvious when navigating in the 3D View. When you navigate, you are changing your view of the world; you are not changing the world."[8]
The point of origin is where control is literally located. The two-handedness of the representational system indicates a possibility to shift from 'navigation' (vanishing point) into 'creation' (point of origin), using the same coordinate system. The double agency produced by this ability to alternate is only tempered by the fact that it is not possible to take both positions at the same time.
'Each object has an origin point. The location of this point determines where the object is located in 3D space. When an object is selected, a small circle appears, denoting the origin point. The location of the origin point is important when translating, rotating or scaling an object. See Pivot Points for more.'[9]
The second form of control placed at the origin is the 3D manipulator that handles the rotation, translation, and scaling of the object. In this way, the points of origin function as pivots that the worlds are moved around.
An altogether different cluster of world metaphors is at work in the 'world tab'. Firmly re-orienting the virtual back in the direction of the physical, these settings influence how an object is rendered and made to look 'natural'.
'The world environment can emit light, ranging from a single solid color, physical sky model, to arbitrary textures.'[10]
The tab contains settings for adding effects such as mist, stars, and shadows but also 'ambient occlusion'. The Blender manual explains this as a 'trick that is not physically accurate', suggesting that the other settings are. The 'world tab' leaves behind all potential of multiplicity that became available through the computational understanding of 'world'. The world of worlds becomes, there, impossible.
Why not the world? At the one hand, the transposition of the word 'world' into Blender functions as a way to imagine a radical interconnected multiplicity, and opens up the possibility of political fictions derived from practices such as scaling, displacing, de-centering and/or alternating. On the other hand, through its linkage to (a vocabulary) of control, its world-view stays close to that of actual world domination. Blender operates with two modes of 'world'. One that is accepting the otherness of the computational object, somehow awkwardly interfacing with it, and another that is about restoring order, back to 'real'. The first mode opens up to a widening of the possible, the second prefers to stick to the plausible, and the probable.
Item 012: No Ground[edit]
Entry of the item into the inventory: 5 March 2017
Year in which the item emerged culturally or was produced industrially: 2008, 2012
Author(s) of the item: mojoDallas, Hito Steyerl
Cluster(s) the item belongs to: Dis-orientation

"A fall toward objects without reservation, embracing a world of forces and matter, which lacks any original stability and sparks the sudden shock of the open: a freedom that is terrifying, utterly deterritorializing, and always already unknown. Falling means ruin and demise as well as love and abandon, passion and surrender, decline and catastrophe. Falling is corruption as well as liberation, a condition that turns people into things and vice versa. It takes place in an opening we could endure or enjoy, embrace or suffer, or simply accept as reality."[11]
This item follows Hito Steyerl in her reflection on disorientation and the condition of falling, and drag it all the way to the analysis of an animation generated from a motion capture file. The motion capture of a person jumping is included in the Carnegie-Mellon University Graphics Lab Human Motion Library.[12] Motion capture systems, including the one at Carnegie Mellon, typically do not record information about context, and the orientation of the movement is made relative to an arbitrary point of origin.[13]
In the animated example, the position of the figure in relation to the floor is 'wrong', the body seems to float a few centimeters above ground. The software relies on perceptual automatisms and plots a naturalistic shadow, taking the un-grounded position of the figure automatically into account: if there is a body, a shadow must be computed for. Automatic naturalization: technology operates with material diligence. What emerges is not the image of the body, but the body of the image: "The image itself has a body, both expressed by it's construction and material composition, and (...) this body may be inanimate, and material."[14]
'No ground' is an attempt to think through issues with situatedness that appear when encountering computed and computational bodies. Does location work at all, if there is no ground? Is displacement a movement, if there is no place? How are surfaces behaving around this no-land's man, and what forces affect them?
The found-on-the-go ethics and "path dependence" that condition computational materialities of bodies worry us. It all appears too imposing, too normative in the humanist sense, too essentialist even. What body compositions share a horizontal base, what entities have the gift of behaving vertically? How do other trajectories affect our semiotic-material conditions of possibility, and hence the very politics that bodies happen to co-compose? How can these perceptual automatism be de-clutched from a long history of domination, of the terrestrial and extraterrestrial wild, now sneaking into virtual spheres?[15]
We suspect a twist in the hierarchy between gravitational forces. It does not lead to collapse but results in a hallucinatory construction of reality, filled with floating 'bodies'. If we want to continue using the notions of 'context' and 'situation' for cultural analysis of the so-called bodies that populate the pharmacopornographic, military and gamer industries and their imaginations, to attend to their immediate political implications, we need to reshape our understanding of them. It might be necessary to let go of the need for 'ground' as a defining element for the very existence of the 'body', though this makes us wonder about the agencies at work in this un-grounded embodiments. If the land is for those who work it, then who is working the ground?[16]
"Disorientation involves failed orientations: bodies inhabit spaces that do not extend their shape, or use objects that do not extend their reach"[17]
The co-constitution of so-called bodies and technologies shatters all dream of stability, the co-composition of foreground and background crashes all dreams of perspective. When standing just does not happen due to a lack of context or a lack of ground, even if it is a virtual one, the notion of standpoint does not work. Situation, though, deserves a second thought.
The political landscape of turning people into things and vice-versa recalls the rupture of 'knowing subjects' and 'known objects' that Haraway called for after reading the epistemic use of 'standpoint' in Harding[18], which asked for a recognition of the 'view from below' of the subjugated: "to see from below is neither easily learned nor unproblematic, even if 'we' 'naturally' inhabit the great underground terrain of subjugated knowledges".[19] The emancipatory romanticism of Harding does not work in these virtual renderings neither. The semiotic-material conditions of possibility that unfold from Steyerl's above description are conditions without point, standing or below.
What implications would it have to displace our operations, based on unconsolidated matter that in its looseness asks for eventual anchors of interdependence? How could we transmute the notion of situatedness, to understand the semiotic-material conditionings of 3D rendered bodies, that affect us socially and culturally through multiple managerial worldings?
The 'body' in this item is not static nor falling: it is floating. Here we find that the 'situatedness' of Haraway does not match when we try to manage potential vocabularies for the complex forms of worldmaking and its embodiments in the virtual. What can we learn from the conditions of floating brought to us by the virtual transduction of modern perspective, in order to draft an account-giving apparatus of present presences? How can that account-giving be intersectional with regards to the agencies implied, respectful of the dimensionality of time and aging, and responsible with a political history of groundness?
Floating is the endurance of falling. It seems that in a in a computed environment, falling is always in some way a floating. There is no ground to fall towards that limits the time of falling, nor is the trajectory of the fall directed by gravity. The trajectory of a floating or persistently falling body is always already unknown.
In the dynamic imagination of the animation, the ground does not exist before the movement is generated, it only appears as an afterthought. Everything seems upside down: the foundation of the figure is deduced from, not pre-existing its movement. Does this mean that there is actually no foundation, or just that it appears in every other loop of movement? Without the ground, the represented body could be understood as becoming smaller and that would open the question on dimensionality and scaleability. But being surface-dependent, it is received as moving backwards and forwards: the modern eye reads one shape that changes places on a territory. Closer, further, higher, lower: the body arranges itself in perspective, but we must attend the differences inherent in that active positioning. The fact that we are dealing with an animation of a moving body implies that the dimension of time is brought into the conversation. Displacement is temporary, with a huge variation in the gradient of time from momentary to persistent.
In most cases of virtual embodiment, the absolute tyranny of the conditions of gravity do not operate. In a physical situation (a situation organized around atoms), falling on verticality is a key trajectory of displacement; falling cannot happen horizontally upon or over stable surfaces. For the fleshy experienced, falling counts on gravity as a force. Falling seems to relate to liquidity or weightlessness, and grounding to solidity and settlement of matters. Heaviness, having weight, is a characteristic of being-in-the-world, or more precisely: of being-on-earth, magnetically enforced. Falling is depending on gravity, but it is also – as Steyerl explains – a state of being un-fixed, ungrounded, not as a result of groundbreaking but as an ontological lack of soil, of base. Un-fixed from the ground, or from its representation.[20]
Nevertheless, when gravity is computed, it becomes a visual-representational problem, not an absolute one. In the animation, the figure is fixed and sustained by mathematical points of origin but to the spectator from earth, the body seems unfixed from its 'natural soil'. Hence, in a computational space, other 'forced' directions become possible thanks to a flipped order of orientation: the upside-down regime is expanded by others like left-right, North-South and all the diagonal and multi-vortex combinations of them. This difference in space-time opens up the potential of denaturalized movements.
Does falling change when the conditions of verticality, movement and gravity change? Does it depend on a specific axis? Is it a motion-based phenomenon, or rather a static one? Is it a rebellion against the force of gravity, since falling here functions in a mathematical rather than in a magnetic paradigm? And if so, 'who' is the agent of that rebellion?
At minute 01:05, we find a moment where two realities are juxtaposed. For a second, the toe of the figure trespasses the border of its assigned surface, glitching a way out of its position in the world, and bringing with it an idea of a pierceable surface to exist on ... opening up for an eventual common world.
In the example, the 'feet' of the figure do not touch the 'ground'. It reminds us that the position of this figure is the result of computation. It hints at how rebellious computational semiotic-material conditions of possibility are at work. We call them semiotic because they are written, codified, inscribed and formulated (alphanumerically, to start with). We call them material since they imply an ordering, a composition of the world, a structuring of its shapes and behaviors. Both conditions affect the formulation of a 'body' by considering weight, height and distance. They also affect the physicality of computing: processes that generate it pulses in electromagnetic circuits, power network use, server load, etc.
When the computational grid is placed under the feet of the jumping figure, materialities have to be computed, generated and located "back" and "down" into a "world". Only in relation to a fixed point of origin and after having declared its world to make it exist, the surrounding surfaces can be settled. Accuracy would depend on how those elements are placed in relation to the positioned body. Accuracy is a relational practice: body and ground are computed separately, each within their own regime of precision. When the rendering of the movement makes them dependent on the placement of the ground, their related accuracy will appear as strong or weak, and this intensity will define the kind of presence emerging.
Thinking present presences can not rely on the lie of laying. A thought on agency can neither rely on the ground to fall towards nor on the roots of grass to emerge from. How can we then invoke a politics of floating not on the surface but within, not cornered but around and not over but beyond, in a collective but not a grass-roots movement? Constitutive conditioning of objects and subjects is absolutely relational, and hence we must think of and operate with their consistencies in a radically relational way as well: not as autonomous entities but as interdependent worldings. Ground and feet, land and movement, verticality and time, situatedness and axes: the more of them we take into account when giving account of the spheres we share, the more degrees of freedom we are going to endow our deterritorialized and reterritorialized lives with.
The body is a political fiction, one that is alive; but a fiction is not a lie.[21] And so are up, down, outside, base, East and South and presence.[22] Nevertheless, we must unfold the insights from knowing how those fictions are built to better understand their radical affection on the composition of what we understand as 'living', whether that daily experience is mediated fleshly or virtually.
Item 022: Loops[edit]
Entry of the item into the inventory: November 2016
Year in which the item emerged culturally or was produced industrially: 2009, 2008, 1971, 1946
Author(s) of the item: Golan Levin, Merce Cunningham, OpenEnded group, Buckminster Fuller
Cluster(s) the item belongs to: Dis-orientation
URL: http://possiblebodies.constantvzw.org/inventory/?022

'Loops' entered the inventory for the first time through an experiment by Golan Levin.[23] Using an imaging technique called Isosurfacing, common in medical data-visualization and in cartography, Levin rendered a motion recording of Merce Cunningham's performance 'Loops'. The source code of the project is published on his website as golan_loops.zip. The archive contains among c-code and several Open Framework libraries, two motion capture files formatted in the popular Biovision Hierarchy file format, rwrist.bvh.txt and lwrist.bvh.txt. There is no license included in the archives.[24]
Following the standard lay-out of .bvh, each of the files starts with a detailed skeleton hierarchy where in this case, WRIST is declared as ROOT. Cascading down into carpals and phalanges, Rindex is followed by Rmiddle, Rpinky, RRing and finally Rthumb. After the hierarchy section, there is a MOTION section that includes a long row of numbers.
Just before he died in 2009, Cunningham released the choreography for 'Loops' under a Creative Commons Attribution-Noncommercial-Share Alike 3.0 license. No dance-notations were published, neither has The Merce Cunningham Trust included the piece in the 68 Dance Capsules providing "an array of assets essential to the study and reconstruction of this iconic artist's choreographic work."[25]
From the late nineties, the digital art collective OpenEnded group worked closely with Merce Cunningham. In 2001, they recorded four takes of Cunningham performing 'Loops', translating the movement of his hands and fingers into a set of datapoints. The idea was to "Open up Cunningham's choreography of Loops completely" as a way to test the idea that the preservation of a performance could count as a form of distribution.[26]
The release of the recorded data consists of four compressed folders. Each of the folders contains a .fbx (Filmbox) file, a proprietary file format for motion recording owned by software company Autodesk, and two Hierarchical Translation-Rotation files, a less common motion capture storage format. The export files in the first take is called Loops1_export.fbx and the two motion capture files loops1_all_right.htr and loops1_all_left.htr. Each take is documented on video, one with hand-held camera and one on tripod. There is no license included in the archives.
In 2008, the OpenEnded group wrote custom software to create a screen based work called 'Loops'. Loops runs in real time, continually drawing from the recorded data. "Unique? — No and yes: no, the underlying code may be duplicated exactly at any time (and not just in theory but in practice, since we've released it as open source); yes, in that no playback of the code is ever the same, so that what you glimpse on the screen now you will never see again."[27] The digital artwork is released under a GPL v.3 license.
Seeing interpretations of 'Loops' made by other digital artists such as Golan Levin, OpenEnded group declared that they did not have any further interest in anyone else interpreting the recordings: "I found the whole thing insulting, if not to us, certainly to Merce."[28]
Cunningham developed 'Loops' as a performance to be exclusively executed by himself. He continued to dance the piece throughout his life in various forms until arthritis forced him to limit its execution to just his hands and fingers.[29]
In earlier iterations, Cunningham moved through different body parts and their variations one at a time and in any order: feet, head, trunk, legs, shoulders, fingers. The idea was to explore the maximum number of movement possibilities within the anatomical restrictions of each joint rotation. Stamatia Portanova writes: "Despite the attempt at performing as many simultaneous movements as possible (for example, of hands and feet together), the performance is conceived as a step-by-step actualization of the concept of a binary choice."[30]
A recording of 'Loops' performed in 1975 is included in the New York Public Library Digital Collections, but can only viewed on site.[31]
Cunningham danced 'Loops' for the first time in the Museum of Modern Art in 1971. He situated the performance in front of 'Map (Based on Buckminster Fuller's Dymaxion Airocean World)', a painting by Jasper Johns. Roger Copeland describes 'Loops' as follows: "In much the same way that Fuller and Johns flatten out the earth with scrupulous objectivity, Cunningham danced in a rootless way that demonstrated no special preference for any one spot." and later on, in the same book, "Consistent with his determination to decentralize the space of performance, Cunningham's twitching fingers never seemed to point in any one direction or favor any particular part of the world represented by Johns's map painting immediately behind him."[32]
In one of the rare images that circulates of the 1971 performance, we see Cunningham with composer Gordon Mumma in the background. From the photograph it is not possible to detect if Cunningham is facing the painting while dancing 'Loops', and whether the audience was seeing the painting behind or in front of him.
Cunningham met Buckminster Fuller in 1948 at Blackmountain college. In an interview with Jeffrey Schnapp, he describes listening to one of Fuller's lectures: "In the beginning you thought, this is absolutely wonderful, but of course it won't work. But then, if you listened, you thought, well maybe it could. He didn't stop, so in the end I always felt like I had a wonderful experience about possibilities, whether they ever came about or not."[33]
With The Dymaxion Airocean World Map, Buckminster Fuller wanted to visualize planet earth with greater accuracy. In this way "humans will be better equipped to address challenges as we face our common future aboard Spaceship Earth." The description of the map on the Buckminister Fuller Institute website is followed by a statement that "the word Dymaxion, Spaceship Earth and the Fuller Projection Map are trademarks of the Buckminster Fuller Institute. All rights reserved."[34]
The Dymaxion Airocean Projection divides the surface of the earth into 20 equilateral spherical triangles in order to produce a two-dimensional projection of the globe. Fuller patented the Dymaxion map at the US Patent office in 1946.[35]
Aftermath[edit]
The inventorying of the items 007, 012 and 022 has allowed us to think through three cultural artifacts with very different scales, densities, media and duration. The items were selected because they align with a fundamental inquiry into 3D-infused imaginations of the 'body' and their consequences, emerging through a set of questions related to orientation and dis-orientation. Additionally, the items represent the transdisciplinarity of the issues with 3D scanning, modeling and tracking, that touch upon performance analysis, math, cartography, law and software studies.
In item 007: Worldsettings for beginners, we explored the singular way in which the Cartesian coordinate system inhabits the digital by producing worlds in 3D modeling software, including the world of the body itself. In item 012: No Ground, we asked how situatedness can be meaningful when there is no ground to stand on. We wondered which tools we might need to develop in order to organize forms, shapes and ultimately a living if floating on virtual disorientation. Finally in item 022: Loops, we followed the embodiment of a choreographic practice, captured in files and legal documents, all the way up and back, to facing the earth.
The text evidences some of the ways that inventorying could work as a research method, specifically when interrogating digital apparatuses and the ethico-political implications that are nested in the most legitimated and capitalized industries of the technocolonial totalizing innovation, defining the limits of the fictional construction of fleshy matters: what computes as a body.
The main engine of Possible Bodies as a collective research, is to problematize the hegemonic pulsations in those technologies that deal with "bodies" in their volumetric dimension. We understand the research as an intersectional practice with a trans-feminist sensibility along the aesthetics and ethics to understand the (somato)political conditioning of our everyday.
Evidently, the questions both sharpened and overflowed while studying the items and testing their limits, fueling Possible Bodies as a project. Inventorying opens up possibilities for an urgent mutation of that complex matrix by diffracting from probabilistic normativity.
x, y, z (4 filmstills)[edit]
The volume of volumetric data that mining companies, hospitals, border agents and gaming industries acquire, is ever increasing in scale and resolution. As a result, the usage of powerful software environments to analyse and navigate this digital matter, grows exponentially as well. Imaging platforms draw expertise from computer vision, 3D-visualisation and algorithmic data-processing to join forces with modern science. Obediently adhering to Euclidean perspective, they efficiently generate virtual volumes and perform exclusionary boundaries on the fly.
To interrogate the consequences of these alignments, Possible Bodies presents four filmstills from a movie-in-the making. The movie is calling for queer rotations and disobedient trans*feminist angles that can go beyond the rigidness of axiomatic axes within the techno-ecologies of 3D tracking, modelling and scanning. It is an attempt to think along the agency of certain cultural artifacts, hopefully widening their possibilities beyond pre-designed ways of doing and being.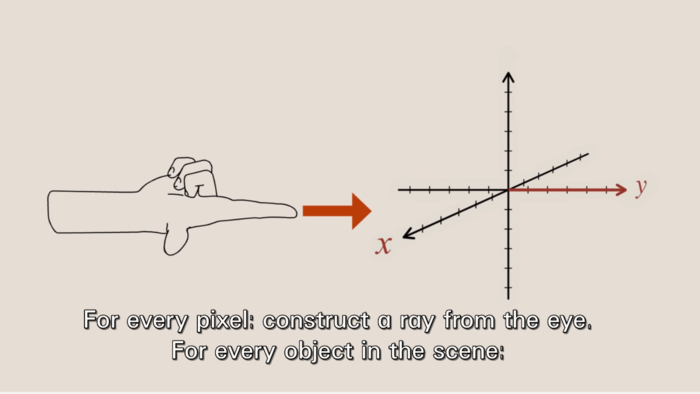 Item 014: The Right-Hand Rule + Item 105: A ray from the eye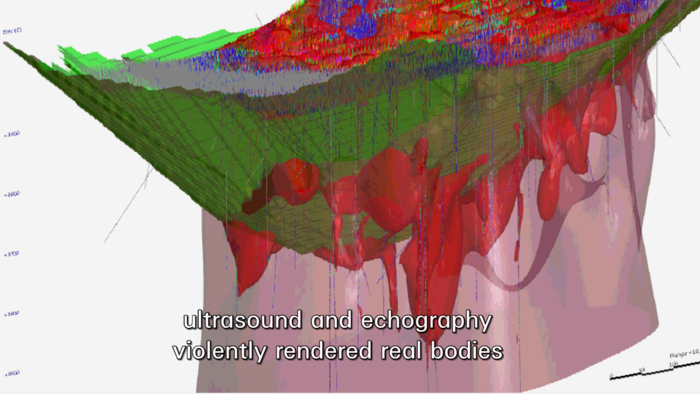 Item 090: Model Our Planet + Item 082: Ultrasonic dreams of aclinical renderings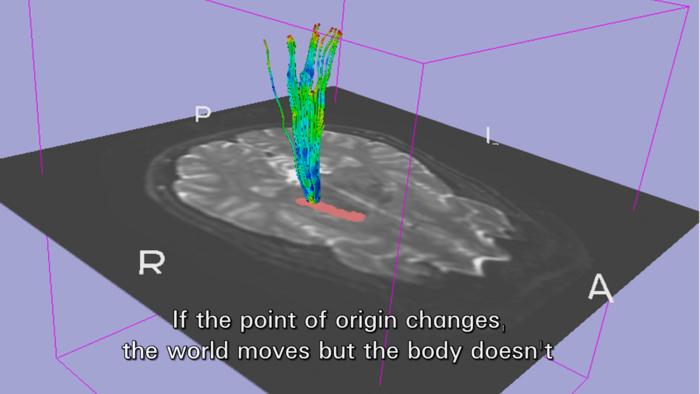 Item 098: Region of interest + Item 007: Worldsetting for beginners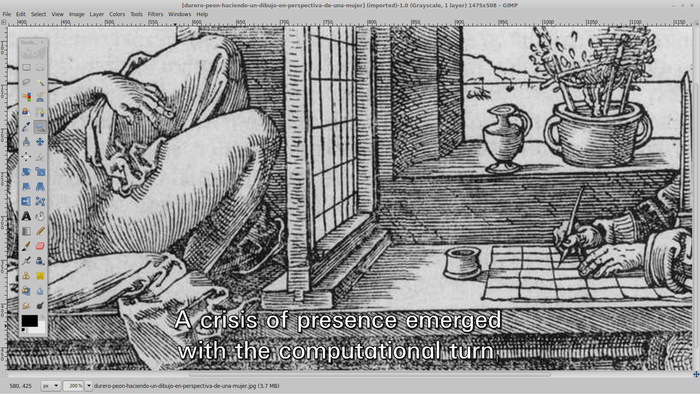 Item 003: Artist Drawing a Nude with Perspective Device + Item 087: The Crisis of Presence
Invasive imagination and its agential cuts[edit]
There is a conversation missing on the politics of computer tomography, on what is going on with data captured by MRI, PET and CT scanners, rendered as 3D-volumes and then managed, analyzed, visualized and navigated within complex software environments. By aligning medical evidence with computational power, biomedical imaging seems to operate at the forefront of technological advancement while remaining all too attached to modern gestures of cutting, dividing and slicing. Computer tomography actively naturalizes modern regimes such as Euclidean geometry, discretization, anatomy, ocularity and computational efficiency to create powerful political fictions: invasive imaginations and inventions that provoke the technocratic and scientific truth of so-called bodies. This text is a call for trans*feminist[1] software prototyping, a persistent affirmation of the possibility for radical experimentation, especially in the hypercomputational context of biomedical imaging.
1. Slice[edit]
In which we follow the emergence of a slice and its encounters with Euclidean geometry.
The appearance of the slice in biomedical imaging coincides with the desire to optimize the use of optical microscopes in the 18th century. Specimen were cut into thin translucent sections mounted between glass, to maximize their accessible surface area and to slide them more easily under the objective. Microtomography, after "tomos" which means slice in Greek, seems at first sight conceptually coherent with contemporary volumetric scanning techniques or computer tomography. But where microtomography produces visual access by physically cutting into specimen, computer tomography stays on the outside. In order to affectively and effectively navigate matter, ocularity has been replaced by digital data-visualisation.
In computer tomography, "slice" stands for a data entity containing the total density values acquired from a cross-section of a volume. MRI, PET or CT scanners rotate around matter conglomerates such as human bodies, crime scenes or rocks to continuously probe their consistency with the help of radiation.[2] The acquired data is digitally discrete but spatially and temporally ongoing. Only once turned into data, depths and densities can be cut into slices, and computationally flattened onto a succession of two-dimensional virtual surfaces that are backprojected to each resemble a contrasted black and white X-ray. Based on the digital cross-sections that are mathematically aligned into a stack, a third dimension can now be reverse-engineered. This volumetric operation blends data acquired at different micro-moments into a homogeneous volume. The computational process of translating matter density into numbers, re-constructing these as stacks of two-dimensional slices and then extrapolating additional planes to re-render three-dimensional volumes, is at the basis of most volumetric imaging today.
Tomography emerged from a long-standing technoscientific exploration fueled by the desire to making the invisible insides of bodies visible. It follows the tradition of anatomic experiments into a "new visual reality" produced by early x-ray imagery.[3] The slice was a collective invention by many: technologists, tools, users, uses, designers and others knotted the increasing availability of computational capacity to the mathematical theorem of an Austrian mathematician and the standardization of radio-densities.[4] Demonstrating the human and more-than-human entanglements of technoscientific streams, the slice invoked multiple pre-established paradigms to provoke an unusual sight on and inside the world. Forty years later, most hospitals located in the Global North have MRI and CT scanners operating around the clock.[5] In the mean time, the slice became involved in the production of multiple truths, as tomography propagated along the industrial continuum: from human brain imaging to other influential fields of data-extraction such as mining, border-surveillance, mineralogy, large-scale fishing, entomology and archaeology.[6]
The acceleration produced by the probable jump to the third dimension can hardly be overestimated. This jump is made even more useful because of the alleged "non-invasive" character of tomography: tomography promises visual access without the violence of dissection. Looking at the insides of a specimen which was traditionally conditioned by its death or an-aesthesia, does not anymore require physical intervention.[7] But the persistence of the cross-cut, the fast assumptions that are made about the non-temporality of the slice, the supposed indexical relation they have to matter, the way math is involved in the re-generation of densities and the location of tissues, all of it makes us wonder about the not-non-invasiveness of the imagination at work in the bio(info)technological tale. Looking is somehow always already an operation.
Slices necessitate powerful software platforms to be visualized, analyzed, rendered and navigated. We call such platforms 'powerful' because of their extensive (and expensive) computational capacities, but also because of ways they embody authority and truth-making. Software works hard to remove any trace of the presence of the scanning apparatus and of the mattered bodies that were once present inside of it. For slices to behave as a single volume that is scanned at a single instant, they need to be normalized and aligned to then neatly fit the three orthogonal planes of X, Y and Z. This automated process of 'registration' draws expertise from computer vision, 3D-visualisation and algorithmic data-processing to stack slices in probable ways.
From now on, the slices act in line with the rigidity of Euclidean geometry, a mathematical paradigm with its own system of truth, a straight truth.[8] It relies on a set of axioms or postulates where the X, Y and Z axes are always parallel, and where all corpo-real volumes are located in the cubic reality of their square angles.[9] For reasons of efficiency, hardware optimization, path dependency and compatibility, Euclidean geometry has become the un-questionable neutral spatial norm in any software used for volumetric rendering, whether this is gaming, flight planning or geodata processing. But in the case of biomedical imaging, X, Y and Z axes are also conveniently fitting the 'saggital', 'coronal' and 'axial' planes that were established in anatomical science in the 19th century.[10] The slices have been made to fit the fiction of medicine as seamlessly as they fit the fiction of computation.
Extrapolated along probable axis and obediently registered to the Euclidean perspective, the slices are now ready to be rendered as high-res three dimensional volumes. Two common practices from across the industrial continuum of volumetric imaging are combined for this operation: Ray-tracing and image segmentation. Ray-tracing considers each pixel in each slice as the point of intersection with a ray of light, as if it was projected from a simulated eye and then encountered a virtual object. 'Imaging' enters the picture only at the moment of rendering, when the ray-tracing algorithm re-inserts the re-assuring presences of both ocularity and a virtual internal sun. Ray-tracing is a form of algorithmic drawing that makes objects appear on the scene by projecting lines that originate from a single vantage point. It means that every time a volume is rendered, ray-tracing performs Duerer's enlightenment classic, Artist drawing a nude with perspective device.[11] Ray-tracing literally inverses the centralized god-like 'vision' of the renaissance artist and turns it into an act of creation.
Image segmentation starts at the boundaries rendered on each slice. A continuous light area surrounded by a darker one suggest the presence of coherent materiality; difference signals a border between inside and outside. With the help of partially automatic edge detection algorithms, contrasted areas are demarcated and can subsequently be transformed into synthetic surfaces with the help of a computer graphics algorithm such as Marching Cubes. The resulting mesh- or polygon models can be rendered as continuous three dimensional volumes with unambiguous borders.[12] What is important here, is that the doings and happenings of tomography literally make invisible insides visible.
From the very beginning of the tomographic process there has been an entanglement at work between computation and anatomy.[13] For a computer scientist, segmentation is a set of standard techniques used in the field of Computer Vision to algorithmically discern useful bits and pieces of images. When anatomist use the same term, they refer to the process of cutting off one part of an organism from another. For radiologists, segmentation means visually discerning anatomical parts. In computer tomography, traditions of math, computation, perspective and anatomy join forces to perform exclusionary boundaries together, identifying tissue types at the level of single pixels. In the process, invisible insides have become readable and eventually writable for further processing. Cut along all-too-probable sets of gestures, dependent on assumptions of medical truth, indexality and profit, slices have collaborated in the transformation of so-called bodies into stable, clearly demarcated volumes that can be operated upon. The making visible that tomography does, is the result of a series of generative re-renderings that should be considered as operative themselves.[14] Tomography re-presents matter-conglomerates as continuous, stable entities and contributes strongly to the establishment of coherent materiality and humanness-as-individual-oneness. These picturings create powerful political fictions; imaginations and inventions that provoke the technocratic and scientific truth of so-called bodies.
The processual quantification of matter under such efficient regimes produces predictable outcomes, oriented by industrial concerns that are aligned with pre-established decisions on what counts as pathology or exploitation. What is at stake here is how probable sights of the no-longer-invisible are being framed. So, what implications would it have to let go of the probable, and to try some other ways of making invisible insides visible? What would be an intersectional operation that disobeys anthropo-euro-andro-capable projections? Or: how to otherwise reclaim the worlding of these possible insides?
2. Slicer[edit]
In which we meet Slicer, and its collision with trans*feminist urgencies.
Feminist critical analysis of representation has been helpful in formulating a response to the kind of worlds that slices produce. But by persistently asking questions like: who sees, who is seen, and who is allowed to participate in the closed circuit of "seeing", such modes of critique too easily take the side of the individual subject. Moreover, it is clear that in the context of biomedical informatics, the issue of hegemonic modes of doing is more widely distributed than the problem of the (expert) eye, as will become increasingly clear when we meet our protagonist, the software platform Slicer. It is why we are interested in working through trans*feminist concepts such as entanglement and intra-action as a way to engage with the complicated more-than-oneness that these kind of techno-ecologies evidently put in practice.
Slicer or or 3D-Slicer is an Open Source software platform for the analysis and visualization of medical images in research environments.[15] The platform is auto-framed by its name, an explicit choice to place the work of cutting or dividing in the center; an unapologetical celebration of the geometric norm of contemporary biomedical imaging. Naming a software "Slicer" imports the cut as a naturalized gesture, justifying it as an obvious need to prepare data for scientific objectivity. Figuring the software as "Slicer" (like butcher, baker, or doctor) turns it into a performative device by which the violence of that cut is delegated to the software itself. By this delegation, the software puts itself at the service of fitting the already-cut slices to multiple paradigms of straightness, to relentlessly re-render them as visually accessible volumes.[16] In such an environment, any oblique, deviating, unfinished or queer cuts become hard to imagine.
Slicer evolved in the fertile space between scientific research, biomedical imaging and the industry of scanning devices. It sits comfortably in the middle of a booming industry that attempts to seamlessly integrate hardware and software, flesh, bone, radiation, economy, data-processing with the management of it all. In the clinic, such software environments are running on expensive patented radiology hardware, sold by global technology companies such as Philips, Siemens and General Electric. In the high-end commercial context of biomedical imaging, Slicer is one of the few platforms that runs independent of specific devices and can be installed on generic laptops. The software is released under an Open Source license which invites different types of users to study, use, distribute and co-develop the project and its related practices. The project is maintained by a community of medical image computing researchers that take care of technical development, documentation, versioning, testing and the publication of a continuous stream of open access papers.[17]
At several locations in- and around Slicer, users are warned that this software is not intended for clinical use.[18] The reason Slicer positions itself so persistently outside the clinic might be a liability issue but seems most of all a way to assert itself as a prototyping environment in-between diagnostic practice and innovative marketable products.[19] The consortium managing Slicer draws in millions worth of US medical grants every year, already for more than a decade. Even so, Slicer's interface comes across as alarmingly amateurish, bloating the screen with a myriad of options and layers that only vaguely remind of the subdued sleekness of corresponding commercial packages. The all-over-the place impression of Slicer's interface coincides with its coherent mission to be a prototyping rather than an actual software platform. As a result, its architecture is skeletal and its substance consists almost entirely of extensions, each developed for very different types of biomedical research. Only some of this research concerns actual software development, most of it is aimed at developing algorithms for automating tasks such as anomaly detection or organ segmentation. The ideologies and hegemony embedded in the components of this (also) collectivelly-developed-software are again confirmed by the recent adoption of a BSD license which is considered to be the most "business-friendly" Open Source license around.
The development of Slicer is interwoven with two almost simultaneous genealogies of acceleration in biomedical informatics. The first is linked to the influential environment of the Artificial Intelligence labs at MIT. In the late nineties, Slicer emerged here as a tool to demonstrate the potential of intervention planning. From the start, the platform connected the arts and manners of Quantitative Imaging to early experiments in robot surgery. This origin-story binds the non-clinical environment of Slicer tightly to the invasive gestures of the computer-assisted physician.[20]
The second, even more spectacular genealogy is Slicer's shared history with the Visible Human project. In the mid-nineties, when the volume of tomographic data was growing, the American Library of Science felt it necessary to publicly re-confirm the picturings with the visible insides of an actual human body, and to verify that the captured data responded to specifically mattered flesh. While the blurry black and white slices did seem to resemble anatomic structures, how to ensure that the results were actually correct?
A multi-billion dollar project was launched to materially re-enact the computational gesture of tomography onto actual flesh-and-blood bodies. The project started with the acquisition of two 'volunteers', one convicted white middle-aged male murderer, allegedly seeking repentance through donating his body to science, and a white middle-aged female, donated by her husband. Their corpses where first vertically positioned and scanned, before being horizontally stabilized in clear blue liquid, then frozen, and sawn into four pieces.[21] Each piece was mounted under a camera, and photographed in a zenithal plane before being scraped down by 3 millimeter, to be photographed again. The resulting color photographs where digitized, color-corrected, registered and re-rendered volumetrically in X, Y, Z planes. Both datasets (the MRI-data and the digitized photographs) where released semi-publicly. These two datasets, informally renamed into "Adam" and "Eve" still circulate as default reference material in biomedical imaging, amongst others in current versions of Slicer.[22] Names affect matter; or better said: naming is always already mattering.[23]
The mediatized process of the Visible Human project coincided with a big push for accessible imagining software platforms that would offer fly-through 3D anatomical atlases, re-inserting modern regimes on the intersection of computer science, biomedical science and general education.[24] It produced the need for the development of automatic registration and segmentation algorithms such as the Insight Segmentation and Registration Toolkit (ITK), an algorithm that is at the basis of Slicer.[25]
Slicer opens a small window onto the complex and hypercomputational world of biomedical imaging and the way software creates the matter-cultural conditions of possibility that render so-called bodies volumetrically present. It tells stories of interlocking regimes of power which discipline the body, its modes and representations in a top-to-bottom mode. It shows how these regimes operate through a distributed and naturalized assumption of efficiency which hegemonically reproduces bodies as singular entities that need to be clear and ready in order to be "healed". But even when we are critical of the way Slicer orders both technological innovation and biovalue as an economy,[26] its licensing and positioning also create the collective conditions for an affirmative cultural critique of software artifacts. We suspect that a FLOSS environment responsibilizes its community to make sure boundaries do not sit still. Without wanting to suggest that FLOSS itself produces the conditions for non-hegemonic imaginations, its persistent commitment to transformation is key for radical experiments, and for trans*feminist software prototyping.
3. Slicing[edit]
Where we introduce the Modern Separation Toolkit, and the aftermath of the cut.
The act of separation is a key gesture of modernity. The Modern Separation Toolkit (MST) contains persistent and culturally aligned modes of euro-andro-able-anthropocentric representation: taxonomy, anatomy, perspective, individual subjecthood, objectivity and many other material-semiotic moves of division. Separation is active on every level in order to isolate the part from the whole, the one from the other and to detach the object from the subject. Modern claims of truth work from the assumption that there is a necessary relation between separability, determinacy and sequentiality; between division, knowledge and representation.[27]
The disciplines of Art Theory, History of Science and Philosophy of Perception exemplify each with their own means the particular gestures of separation in which the complexities of a particular world are haunted and caught by modern modes to understand, name, transmit and eventually "apprehend" these worlds. If in tomography representing again is a form of grasping or even of control, it is evident that we need to attend to the power relations that these cutting practices produce, so we don't allow them to be completely or definitively naturalized, culturally assumed as evident or given.
The specific mode of separation in contemporary biomedical imaging is the art of computational slicing. Our protagonist Slicer is obviously exposed to and exposing various cuts:
'The subjectivity cut'. Subjectivity can be understood as a prerequisite for representation, as it assures the presence of a subject responsible for a particular understanding of the world. But with the emergence of modern subjecthood, of physical and legal persona freed from their environmental attachments and charged with free will and the capacity of judgment, additional representational norms imposed themselves, somehow occupying an in-between space of singular and normative subjectivity.[28] In Slicer, the subjectivity cut is activated by the default choice of volumetric rendering, a two-point perspective where lines of sight come together in a single point, that of the individual viewer. These so-called bodies are reduced to their individual matter constellation, separated from the machinery around them, movable but divorced from their specific rhythms, without attachments or complications and most important of all, with minimal agency. Being and becoming is reduced to the incontestable promise of wholeness-at-the-end-of-the-scanner's-tunnel.
'The regional cut' refers to the technoscientific phenomena of defining a Region of Interest (ROI), a location of special attention, even if it is as vast as a globe, or an atlas. The regional cut supports a focus and a training of the gaze that as a result can habituate itself on a certain area, but only at the expense of not looking at another.[29] In Slicer, the technical definition and isolation of what is called Region Of Interest operates as a computational upgrading of the decisions behind nineteenth century atlases of anatomy. This interface operation presents the target as a cut. It results in a visual slicing of the virtual volume, which then exposes its invisible insides at its straight incisions.
'The demarcation cut' relates to the way that the practice of segmentation is present in both historical and contemporary biomedical imaging. Segmentation produces absolute divisions between image areas, organs, shades of gray and bones that obediently follow the anatomical canon. It all works together to give the renderings a sense of mathematical precision and medical evidence. In a nutshell, the process allows us to engineer a non-ambiguous spatial lay-out where each tissue or anatomical structure is identified by a label and a unique color code, all based on a black and white blur. The demarcation cut subsequently cascades into The taxonomic cut by means of the hierarchical anatomical model that Slicer shares with motion-tracking software.[30]
'The invasive-non-invasive cut' emerged when the tomographic paradigm imposed itself over other regimes of "seeing" in the field of biomedical imaging. This crossing concept connects the search for least invasivelessness in innovative surgery, with the thread of making invisible insides visible in biomedical informatics' research and practice. Slicer contributes to a dense constellation of techniques and technologies that are developed to cut bodies visually, but not in the flesh.
The last cut in this list is what we learned with Karen Barad to call the agential cut. She unfolds a fundamental notion, that of intra-action, to give account of the constitutive onto-epistemes in apparatuses of observation. And this agential cut is fundamental for a trans*feminist approach to techno-sciences as response-ability.[31] The agential cut claims for a fundamental form of response-ability that is always already entangled in the production of knowledge and its apparatuses. In Slicer, we see the agential cut operating for example in the way the Open Source condition invites and expresses a mutual responsibility of users, devices, developers, algorithms, practitioners, researchers, datasets, founders, embodiments, and other involved agents.
These six cuts identify a number of agencies and their very particular distribution. Their power relations are based on aesthetic, economic and scientific paradigms which together define the tension between what is probable in the gesture of slicing, and what might be possible.
4. Feature requests[edit]
Where the paradigmatic entanglement is ready to redistribute agencies.
In previous sections we moved from slice to slicer, and then into slicing, encountering multiple entangled trans*feminist urgencies on the way. We discussed the effects of the invention of the slice and the naturalization of its geometric and stratifying paradigms. We interrogated the agencies that altogether compose a complex entanglement such as our protagonist, Slicer. And in the last section, we listed six different cuts, understanding the act of division as a key modern gesture that relates knowledge to (mostly visual) representation. Now it is time to apprehend Slicer's technicity by other means.[32]
With trans*feminist techno-sciences we have learned that it is necessary to problematize modern regimes and the impossibilities for life they produce. And that it is possible to do so with what we have at hand. Trans*feminism challenges the ontology of humanity by questioning its separateness from social, economic, material, environmental, aesthetic and historical issues as well as from situated intersections such as race, gender, class, age, ability and species. They also invite us to test an ongoing affirmative ethics[33] in relation to the semiotic-material compositions of what we call "our worldings". It means to put ourselves "at risk" by reconsidering the very notion of "us", assuming the response-ability of being always already entangled with these techno-ecologies which we co-compose by just "being"-in-the-world.
Maybe Open Source platforms such as Slicer can be environments to render so-called bodies differently. Even if this software is being developed in the particularly tight hegemony of innovation-driven, biomedical research, its F/LOSS licensing conditions invites us to imagine an affirmative critique, in dialogue with the communities that develop the software. Or could the platform itself be rendered differently through disobedient takes on the body?
This text ends with a set of "feature requests" that challenge the slicedom of Slicer. It is an attempt at starting a kind of trans*feminist prototyping for an open source software platform for biomedical informatics. To technically widen the tomographic imagination, we could maybe start by:
Renaming the software platform to more accurately reflect the operations it performs. Some proposals: Euclidean Anatomix, Forever dissecting, The Slicest, FlashFlesh, A-clinical Suite Pro, Tomographix Toolbox, Final Cut™ ...
Introducing multiple and relational-perspectives. Computational rendering does not need a single vantage point, nor does it need to mimic the presence of human eyes. Next to the conventional two-way and orthogonal perspective, Slicer could bring multiple-axis and non-Euclidean perspective to the foreground.[34]
De-centering the ocularcentrism of the renderings and re-orient representations. It is not (necessarily) about replacing vision with touch, vibrational, thermic and aural renderings although they might be less or otherwise burdened by modern issues. We are wondering about first of all collective modes of sensing and/or observations, to include multiplied modes of gathering and of processing impressions, of involving otherwise enabling renderings of data.
Breaking the mirage of the interface as a mirror or window on a natural outcome. There must be ways to insist that representation is never complete: in volumetric renderings, nothingness and thereness are happening at the same time. Donna Haraway: "see objectivity not as an epistemological position, but as a precious and fragile and partial achievement"
De-individualising the imagery of the oneness of humanness. The platform does not need to technically collapse multiple slices into a discrete, single volumetric object that appears out of nowhere. Hayles says "only if one thinks of the subject as an autonomous self, independent of the environment, is one likely to experience the panic of Norbert Wiener's Cybernetics and Bernard Wolfe's Limbo (...) when the human is seen as part of a distributed system... it is not a question of leaving the body behind but rather of extending embodied awareness in highly specific, local and material ways that would be impossible without electronic prosthesis".
Problematising the processual temporality of the volumetric images: can we make sure that we do not forget that these volumes as being constructed from takes at different moments, glued into a single object?
Implementing Agential Regions of Interest. This is aimed at eventually freeing the slice from the modern project. What would an a-modern slice be, how would it behave? How to un-capture the slice from its modern ghosts?
Last but not least, we propose to dedicate some of funding to the initiation of a non-dependent program that would allow users, experts and other participants in Slicer to study the Computer Vision (sic) techniques that are implemented in this software. The program should not follow the limited spectrum of probable visions of a white-washed medical research imagination.
The possible is not about a fantastical widening of the imagination, but it is a technical condition that is already happening. This is a fundamental political twist in cultural analysis and critique of what imagination is: it is actually a technical thing. Imagination depends on the devices we collectively use, or that allow our lives to be used by. The devices we collectively use, depend on that imagination. This dependency has always been and will always be mutual. When we assume this condition, then what would response-able imagery entail?
Figures[edit]
1. Slice[edit]
2. Slicer[edit]
3. Slicing[edit]
4. Feature Requests[edit]
Thank you Antye Guenther, Martino Morandi, Zoumana Meite and Dennis Pohl for valuable feedback. A shorter version of this text was originally published as: Rocha, J. and Snelting, F., "La imaginación invasiva y sus cortes agenciales". Utopía. Revista de Crítica Cultural (April-June 2019)
Appendix[edit]
Item Index[edit]
125. Disappearing around us
124. In the classroom and on the field
123. Compare this to how cars are built
122. Apples are red, leaves are green, branches are brown, sky is blue and the ground is yellow.
121. The SECRET LIFE of Algorithmic Plants
120. Simulated dendrochronology for demographics?
119. IvyGen
118. Agrarian Units and Topological Zoning
117. FOLDOUT
116. Kiss cut and the sensing knife
115. Fossil fuel renders to come
114. Earth Grabs Back
113. On a screen near you, the history of the world
112. Hair politics is (also) a matter of volumetrics
111. Crip Technoscience Manifesto
110. Interporoussness
109. The Removal of Trees
108. Panoramic Unknowns
107. Computationalism
106. GeoWhen
105. A ray from the eye
104. Liberté, 3D, Fraternité
103. Cascading anatomies
102. Grassroot rotation
101. Inverse Reconstruction
100. topology<->typography
099. Porous micro-structures
098. Region Of Interest
097. Blackness shifts and morphs
096. Immeasurable Results
095. Shiny Bones
094. BIM
093. CT-Bone volume rendering
092. getting Getting Real
091. Scaling Jack and Jill
090. Model Our Planet
089. How to make human copy mask
088. think of technology as a verb, not a noun
087. The Crisis of Presence
086. The Truthful Hairy Hominid
085. Synthetic Pareidolia
084. Goodbye Uncanny Valley
083. Preferred Orientations of a Vertically Experienced Cat
082. Ultrasonic dreams of aclinical renderings
081. Local Resolution
080. Polyvagal theory
079. Gut Feminism
078. Carrier bag theory of fiction
077. Reissue of Humanscale Manual
076. Unborn 0x9
075. Parametric truth(s)
074. The Continuum
073. Registration
072. Visible Human
071. Visible Woman
070. Anatomical planes
069. Slicer and its slider
068. Poses to calibrate & acquire
067. The Possible
066. The Probable
065. The One and Only (aka Humanness Guaranteed)
064. The Models
063. Simulated+Unsupervised (S+U) learning
062. Worlds of pleasure in our hands
061. The Fragility of life
060. We Help Each Other Grow
059. Anarcha's Gland
058. Rig, rigging
057. For Opacity
056. Civilian American and European Surface Anthropometry Resource (CAESAR)
055. Spin the rendering of the not yet
054. New Criticals Exquisite Corpse
053. The Diffraction Barrier
052. Prospect > Information Leaflet for Users of Somatic Design
051. My Pelvis
050. Small Dance
049. Foot study
048. Cybersyn ergonomics
047. 3D Basel Face Model (BFM)
046. The Saydnaya Project
045. reMakeHuman
044. Vital statistics of a citizen, simply obtained
043. Sway
042. Giants and dwarfs
041. Uterus Man
040. The Animality House
039. Worldsettings for beginners 2 X
038. 3D Clitoris
037. Let's print flesh!
036. Archiving the Data-body: human and nonhuman agency in the documents of Kurenniemi
035. Difficult Forests
034. Creature design X
033. This obscure side of sweetness is waiting to blossom
032. Multiple-axis space test inertia facility
031. Gimbal lock
030. ProxyBody X
029. Militainment
028. Circlusion and/or circluding
027. Movement, gait and balance
026. Psychotecnic Checa
025. Entoforms
024. Merce's Isosurface
023. Subtitles for Facial Weaponization Communiqué: Fag Face
022. Loops
021. Country Ball
020. Facial Weaponization Communiqué: Fag Face
019. The 3D Additivist Manifesto
018. Identificación (Identification)
017. MakeHuman
016. The Biovision Hierarchy format
015. Inner Make Clones mask
014. The Right-Hand Rule
013. BUT: an additional logical gate
012. No Ground
011. Extreme disarticulation
010. The world of the foot
009. open_nsfw
008. Naturecultures
006. The Eyes of the Rock
005. Hyperbolic Spaces
004. Digital Becomings
003. Artist Drawing a Nude with Perspective Device
002. Gesture Recognition Toolkit
001. Blenderella
Bibliography[edit]
[to be added]
Biographies[edit]
Manetta Berends[edit]
Sophie Boiron[edit]
Maria Dada[edit]
Pierre Huyghebaert[edit]
Phil Langley[edit]
Nicolas Malevé[edit]
Romi Ron Morrison[edit]
Simone C. Niquille[edit]
Possible Bodies[edit]
Helen V. Pritchard[edit]
Jara Rocha[edit]
Sina Seifee[edit]
Femke Snelting[edit]
The Underground Division[edit]
Kym Ward[edit]
A letter to Stuart Bailey[edit]
[To be added]
Previously Published[edit]
<insert list of previously published contributions>
DATA browser 09
VOLUMETRIC REGIMES:
material cultures of quantified presence[edit]
Edited by XXX
<insert backcover text>
CONTRIBUTORS:
XXX, XXX, XXX, XXX, XXX, XXX, XXX, XXX, XXX, XXX, XXX, XXX, XXX, XXX, XXX, XXX,
<insert barcode>
<insert logo>